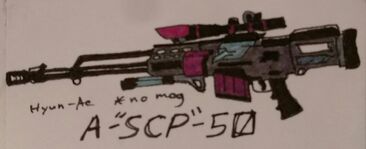 A versatile and under-appreciated rifle by most people's standards, the AI AS50 is a powerful semi-automatic .50 BMG chambered sniper rifle.  The only other characters to possibly recognize its existence before
Hyun-Ae
 was introduced were 
Aaron
 and
Nate
.  Afterwards, everyone seemed to know what this rifle is.  Although she isn't an avid marksman, 
Hyun-Ae
 was intrigued by the excellent mix between high cailber and not having to move her hand off the trigger after each round was fired.
Weapon Modifications
Ad blocker interference detected!
Wikia is a free-to-use site that makes money from advertising. We have a modified experience for viewers using ad blockers

Wikia is not accessible if you've made further modifications. Remove the custom ad blocker rule(s) and the page will load as expected.