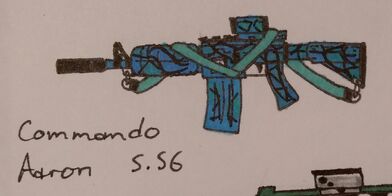 A vietnam era original M4 family prototype.  Used by very few, favored by 
Aaron
, unknown to all.  During the Vietnam War and the Cold War struggles, this rifle barely had any attention.  It was very hush hush as a secret prototype that then became the M4A1 in the early 2000's.  Also, few people knew about it because they were bitching about the M16 and M16A1 jamming or they were dead because it jams!  How politics made America lose the already doomed Vietnam War.
Weapon Modifications
A classic 1960's Saker 556 was added onto the barrel, back then suppressors were more of custom thing that basic units never had
A classic 1960's reflex sight was added on the only tactical rail.  Even then, Aaron

 could still make his reticle a different color and shape

The magazines are on/off about being taped together.  Although this picture has them off, they currently are on

A custom camoflauge design for specific urban and forested areas (shartily drawn by me) has been applied all around the gun.  In the past, present and future, this camo is called Warsaw

By easily moving the wrapped sling over, a picture of you-know-who is on the front end of the lower reciever
Ad blocker interference detected!
Wikia is a free-to-use site that makes money from advertising. We have a modified experience for viewers using ad blockers

Wikia is not accessible if you've made further modifications. Remove the custom ad blocker rule(s) and the page will load as expected.