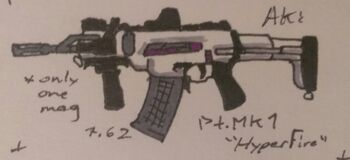 Essentially the AK-74u, or AKMu, of the prototype ARX-160's, this puts the fire rate and handling of an SMG with the range and accuracy of an assault rifle into one rifle yet again. Though few characters like
Nate
,
Aaron
, and
Tyler
might recall a previous kind of weapon only titled the "Peacekeeper".
Simon's Description
"PT.Mk1, which I nicknamed HyperFire, has the toughest of all lightweight firing pins I'd ever seen.  As opposed to 700 rounds per minute, it fires an incredible 1200 rounds per minute with 7.62x39 Russian ammunition.  A very special vertical foregrip along with, what sounds like when fired, a steam cooling system allows the rifle to fire at such speeds.  I noticed a box on the right Picatinny tactical rail with an exhaust pipe system going into the gas barrel of the rifle.  I could not dissect the damn thing with any precision tool I had, but I assumed this was to help with the potential intense recoil.  The rifle also came with a railed flashlight and a EOTech Holographic sight.  As I said, the exterior is a frost white."
Ad blocker interference detected!
Wikia is a free-to-use site that makes money from advertising. We have a modified experience for viewers using ad blockers

Wikia is not accessible if you've made further modifications. Remove the custom ad blocker rule(s) and the page will load as expected.