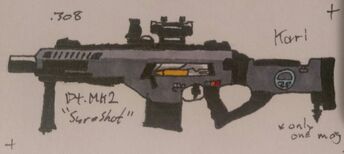 Although it isn't apparently obvious, the shell that acts for 70% of the exterior's makeup is one solid piece that was cut almost like a 3D puzzle to interlock with each other. The main components of the weapon use this like an animatronic character uses a facade. Similarly to a railgun, this rifle has hidden traces that is uses magnets to boost the rifle's muzzle velocity. One might think it is in the "integrated suppressor" but it is neither confirmed or denied.
Simon's Description
"PT.Mk2, which I nicknamed SureShot, comes with a staggering and powerful display of interchangeable marksmanship.  The first thing I noticed when I observed the interior design is that it is chambered in .308 rounds, a marksman's bullet caliber slightly larger than a 7.62x39 Russian round.  The weapon did indeed have select fire; it had firerates of automatic, three round burst, and single fire.  It instead fires at 650 rounds per minute instead of 700, but with good reason.  On the rifle's top Picatinny rail was a "Target Finder" organism movement signature holographic sight.  This sight wasn't into actual military play until 7 years following this weapon's creation, but it displays a shape of your liking to a color of choice to be produced when movement of a living being crosses paths with your aim.  Also to mention, the sight comes with a flip-up x4 magnification sight for enhanced range to aim to.  For the stealthy type, this weapon also comes with an integrated 308 SAKER suppressor.  Of course, this is the grey rifle."
Ad blocker interference detected!
Wikia is a free-to-use site that makes money from advertising. We have a modified experience for viewers using ad blockers

Wikia is not accessible if you've made further modifications. Remove the custom ad blocker rule(s) and the page will load as expected.