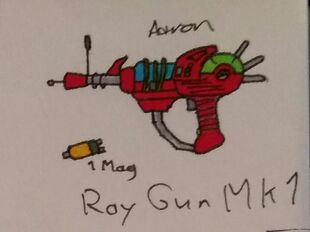 One of the many Wunder Weapons transported from the realm of Group 935, the Ray Gun Mk1 was one of two models made in its classification of Wunder Weapons.  The list including, but not limited to, the Ray Gun Mk2, the Wunderwaffe DG-2, Winter's Howl, Thundergun DG-3, Ragnarok DG-4, the Gersch Device, the Paralyzer, the Scavenger, and the 31-79 JGb215 along with many others (including all four staffs) have been collected by
Aaron
.  This being the most classic of them all, which upgraded turns into the Porter's X2 Ray Gun.  It may not be a logical classic, but it's certainly a Wunder Weapon classic.  Especially to
Aaron
and
Nate
.
A Brief History
It was the first ever Wunder Weapon to be made officially within the realm of Group 935.  The second being the DG-2.  Aaron never forgot the first day he held this weapon and used it.  To him, it was the beginning of something new.  The beginning of a lifetime killing zombies.  He carried few weapons with him in his struggle to end his father's work, avenge his sister, and release the four eternally trapped souls.  While everyone stuck where this handgun came from, they all had to fight to survive.  Most likely, they've all held this weapon more than just a few times.  It was one among few weapons Aaron carried.  Only armed with this, the Commando, and Mustang and Sally.  Yet he survived and took Wunder Weapons, starting with the Ray Gun, to keep in his personal collection.
Ad blocker interference detected!
Wikia is a free-to-use site that makes money from advertising. We have a modified experience for viewers using ad blockers

Wikia is not accessible if you've made further modifications. Remove the custom ad blocker rule(s) and the page will load as expected.